Maximum skiing pleasure, highest quality, safety and friendly consultation at
fair prices - Welcome to the Carezza ski service and sports shop!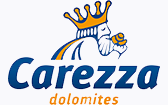 Location: Our ski service/shop is located at the "Sporthotel Alpenrose" directly in Carezza, only a few steps away from the ski slopes and the ski pass and ski school office.
High quality: Carezza Skiservice has been awarded with the "Leading Skiservice" certificate, which is following a strictly regulated validation procedure and thus meets the highest quality standards. The criteria of this certificate includes the quality of the rental equipment, the qualification of the staff and the ski preparation.


Safety first: That's why all bindings are adjusted according to ISO standard 11088. To further minimise the risk of injury, we are the only ski rental in Carezza to electronically check the function of the binding release with a high-precision binding testing machine. In addition, all rental items are prepared after each exit and boots and helmets are disinfected.


Friendly consultion: No matter whether you rent the equipment or wish to prepare yours, it must suit your riding/skiing skills and preferences. Our friendly staff will be happy to advise you and will meet your individual wishes at any time.


Fair prices: Fairness determines our entire pricing policy. Family-friendly prices are a particular concern of ours.


Competent team: Expertise, experience, qualification and reliability speak for our competence in alpine skiing. In our team you will find certified ski service technicians, ISIA-certified ski instructors as well as a ski and mountain guide.
Convince yourself and visit us!
Alfred Zanon & Team